Diverse Technology Path & Product Line
As an important part of fiber optic communication, optical modules are optoelectronic devices that realize photoelectric conversion and electro-optical conversion functions in the process of optical signal transmission.
FIBERSTAMP possesses the strength of making silicon optical modules by mastering both traditional III-V laser-based optical modules and new silicon optical technology.  We self-developed a comprehensive range of transceivers that meets up to 800G and different distances needs. With our products, you can find the right products for your specific application. 
Multi-Mode Optical Modules
Featuring reach up to 400 meters on MMF with stable and high-performance transmission, also no FEC on host and error-free that our product is well suited for various low latency scenarios such as HPC and supercomputing.
In addition, FIBERSTAMP self-developed I-Temp class products with high reliabilities to meet special application.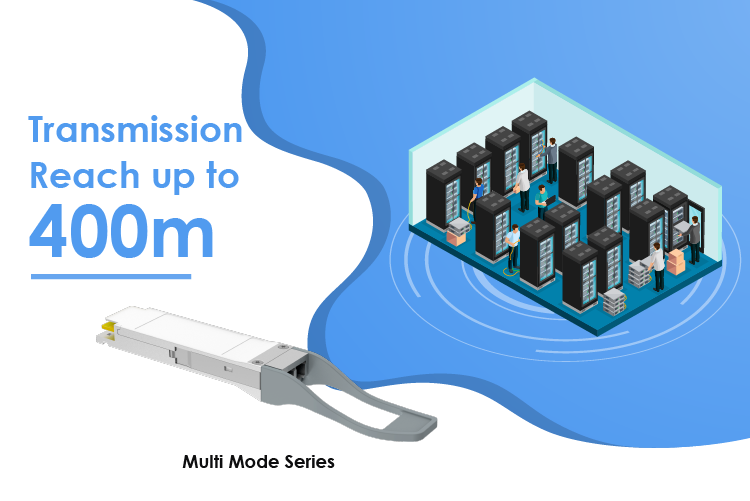 Product Name
Data Rates
Wavelength
Reach
Interface
Max. Power
Consumption
Operation
Temp.
P/N
800G QSFP-DD SR8
800GE
850nm
70m(OM3)
100m(OM4)
MPO16
Dual MPO12
14W
C
FEL-800S8M10C
800G OSFP SR8
800GE
850nm
70m(OM3)
100m(OM4)
MPO16
Dual MPO12
14W
C
FUU-800S8M10C
400G QSFP-DD SR8
400GE
850nm
100m (OM4)
MPO24/16
8.5W
C
FEL-400S8M10C
400G OSFP SR8
400GE
850nm
100m (OM4)
MPO24/16
8.5W
C
FEU-400S8M10C
400G QSFP112 SR4
400GE
850nm
100m (OM4)
MPO12
8.5W
C
FEJ-400S8M10C
400G OSFP112 SR4
400GE
850nm
100m
MPO24/16
8.5W
C
FEV-400S8M10C
200G QSFP-DD SR8
200GE/
EDR
850nm
100m (OM4)
MPO24
4W
C/I
FEL-200S8M10C
FEL-200S8M10T
200G QSFP56 SR4
200GE/
HDR
850nm
100m (OM4)
MPO12
5W
C
FEL-200S4M10C
100G QSFP28 SR1.2
100GE
850nm/900nm
100m (OM4)
Dual LC
C
FBG-100B2M10C
100G QSFP28 SR4
100GE/
EDR
850nm
70m(OM3)
100m(OM4)
MPO12
2W
C/I
FEG-100S4M10C
FEG-100S4M10T
100G QSFP28 eSR4
100GE/
EDR
850nm
200m(OM3)
300m (OM4)
MPO12
2W
C/I
FEG-100S4M30C
FEG-100S4M30T
100G QSFP28 SR4(Dual Rates)
100GE/
OTU4/
128GFC
850nm
70m(OM3)
100m(OM4)
MPO12
2W
C/I
FEG-112S4M10C
FEG-112S4M10T
100G QSFP28 eSR4(Dual Rates)
100GE
OTU4
128GFC
850nm
200m(OM3)
300m (OM4)
MPO12
2W
C/I
FEG-112S4M30C
FEG-112S4M30T
128GFC (4x32GFC) QSFP28 SR4
128GFC
850nm
70m(OM3)
100m(OM4)
MPO12
2W
C/I
FEG-G120S4M10C
FEG-G120S4M10T
128GFC (4x32GFC) QSFP28 eSR4
128GFC
850nm
200m(OM3)
300m (OM4)
MPO12
2W
C/I
FEG-G120S4M30C
FEG-G120S4M30T
56G QSFP+ SR4
4x16GFC/
FDR
850nm
100m(OM3)
150m (OM4)
MPO12
1.5W
C
FEF-F56S4M15C
50G SFP56 SR
50GE
850nm
100m (OM4)
Dual LC
2W
C/I
FBD-E5085M10C
FBD-E5085M10T
40G QSFP+ SR BiDi
40GE
850nm/900nm
100m(OM3)
150m (OM4)
Dual LC
3.5W
C
FBF-E40B2M15C
40G QSFP+ SR4
40GE
850nm
300m(OM3)
400m (OM4)
MPO12
1.5W
C/I
FEF-E40S4M15C
FEF-E40S4M15T
25G SFP28 SR
25GE/
CPRI
850nm
70m(OM3)
100m(OM4)
Dual LC
1W
C/I
FBC-E2585M10C
FBC-D2585M10T
25G SFP28 eSR
25GE
850nm
200m(OM3)
300m (OM4)
Dual LC
1W
C/I
FBC-E2585M30C
FBC-E2585M30T
25G SFP28 CSR
25GE/
CPRI
850nm
300m (OM4)
Dual LC
1W
I
FBC-D2585M30T
100G CFP4 SR4
100GE/
OTU4
850nm
70m(OM3)
100m(OM4)
MPO12
2.5W
C
FEQ-112S4M10C
100G CFP SR10
100GE/
OTU4
850nm
300m(OM3)
400m (OM4)
MPO24
7W
C
FEM-112X0M40C
100G CFP2 SR10
100GE/
OTU4
850nm
300m(OM3)
400m (OM4)
MPO24
8W
C
FEN-112X0M40C
Boost up higher bandwidth for
your data center