Immersion cooling is a full immersion solution using insulating liquid as the coolant. The heat is directly transferred from the server to coolant, the coolant then undergoes secondary heat exchange with the coolant sent in from the primary side. The final round of returned water from the primary side undergoes heat exchange with the atmosphere or is directly used for warm water heat recovery and waste heat utilization. This is called immersion cooling architecture. 
Data Center Immersion Optics / Active Optical Cable
For 25G/100G/200G Gigabit Ethernet and Infiniband EDR Applications and especially reliable design to enable liquid immersion environment. It is a high-performance module for short-range data communication and interconnects applications.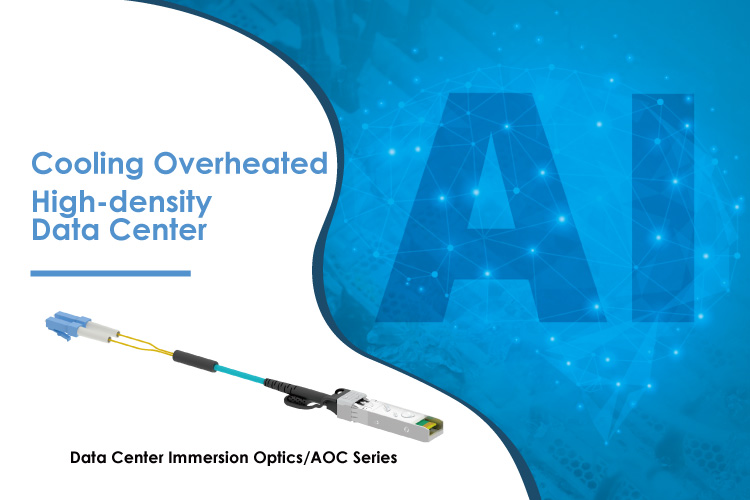 | Product | P/N | Data Rates | Form Factor | Applications | Wavelength | Reach | Pigtail Connector |
| --- | --- | --- | --- | --- | --- | --- | --- |
| | FQH-200S4M10xxx | 200GE/HDR | QSFP56 | SR4 | 850nm | 100m (OM4) | Male MTP12 |
| | FQH-200P4M50xxx | 200GE/HDR | QSFP56 | DR4 | 1310nm | 500m (SMF) | Male MTP12 |
| | FQG-100S4M10xxx | 100GE/EDR | QSFP28 | SR4 | 850nm | 100m (OM4) | Male MTP12 |
| | FQG-100S4M30xxx | 100GE/EDR | QSFP28 | eSR4 | 850nm | 300m (OM4) | Male MTP12 |
| | FMC-D2585M10xxx | 25GE/CPRI | SFP28 | SR | 850nm | 100m (OM4) | Dual LC |
| | FMC-D2585M30xxx | 25GE/CPRI | SFP28 | CSR | 850nm | 300m (OM4) | Dual LC |
Boost up higher bandwidth for
your data center