Leading Video Transmission Technology
FIBERSTAMP has introduced a variety of high-speed broadcast-grade video optical transceiver kit solutions that aim to enable long-distance single-mode fiber transmission of multiple uncompressed SDI signals to meet different scenarios in the upcoming 4K/8K UHD remote transmission era. 
Range of 3G/12G SDI optical transceiver modules with different ports are designed for 3G/12G SDI video optical transmission links reach up to 2km-80km over Single-Mode Fiber (SMF).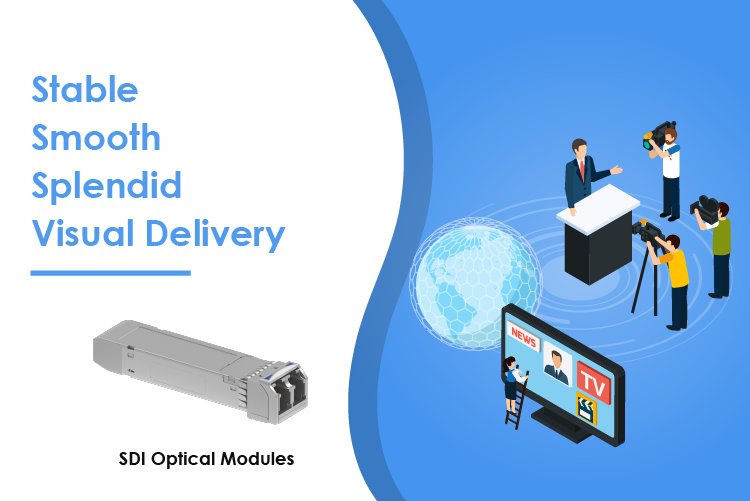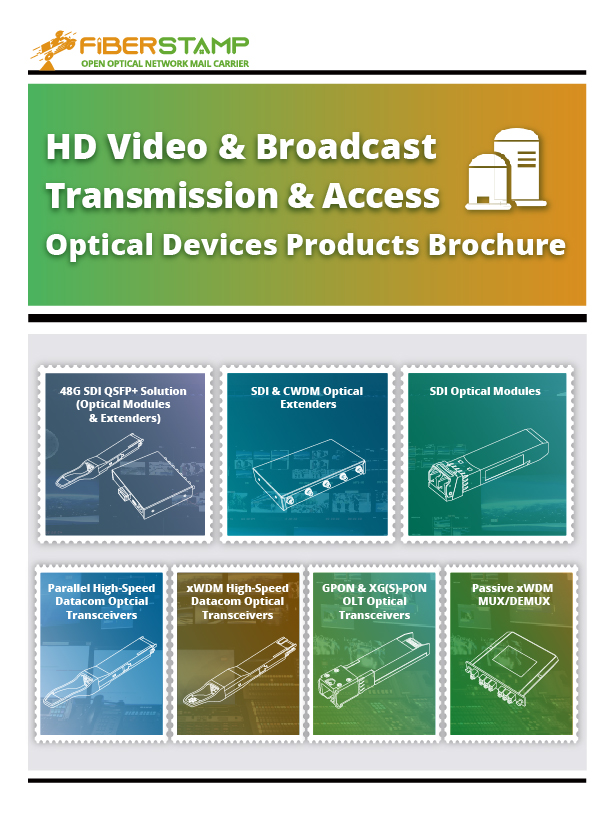 HD Video & Broadcast Product Brochure
Design various video optical solutions for UHD video transmission segmented markets for a better smooth and vivid visual experience in commercial use.   
Download the product brochure to learn more about the FIBERSTAMP video optical modules and scale up your video network.
| Product Number | Data Rates | Form Factor | Module Type | Wavelength | Reach | Interface | Temp. | Pinout |
| --- | --- | --- | --- | --- | --- | --- | --- | --- |
| FBB-V1231K20CM | 12G-SDI | SFP+ | Transceiver | 1310nm | 20km | Dual LC | C | MSA |
| FBB-V1231K20CN | 12G-SDI | SFP+ | Transceiver | 1310nm | 20km | Dual LC | C | Non-MSA |
| FBB-V12CxxK10CM | 12G-SDI | SFP+ | CWDM Transceiver | 1270-1450nm | 10km | Dual LC | C | MSA |
| FBB-V12CxxK10CN | 12G-SDI | SFP+ | CWDM Transceiver | 1270-1450nm | 10km | Dual LC | C | Non-MSA |
| FCB-V122733K20CM | 12G-SDI | SFP+ | BiDi Transceiver | 1270nm/1330nm | 20km | Single LC | C | MSA |
| FCB-V123327K20CM | 12G-SDI | SFP+ | BiDi Transceiver | 1330nm/1270nm | 20km | Single LC | C | MSA |
| FCB-V122733K20CN | 12G-SDI | SFP+ | BiDi Transceiver | 1270nm/1330nm | 20km | Single LC | C | Non-MSA |
| FCB-V123327K20CN | 12G-SDI | SFP+ | BiDi Transceiver | 1330nm/1270nm | 20km | Single LC | C | Non-MSA |
| FJB-V123131K20CN | 2x 12G-SDI | SFP+ | Dual-Transmitter | 1310nm | 20km | Dual LC | C | Non-MSA |
| FJB-V12xxxxK10CN | 2x 12G-SDI | SFP+ | Dual-Transmitter | 1270-1450nm | 10km | Dual LC | C | Non-MSA |
| FHB-V12K20CN | 2x 12G-SDI | SFP+ | Dual-Receiver | N/A | 20km | Dual LC | C | Non-MSA |
| FGB-V1231K20CM | 12G-SDI | SFP+ | Single-Transmitter | 1310nm | 20km | Single LC | C | MSA |
| FGB-V1231K20CN | 12G-SDI | SFP+ | Single-Transmitter | 1310nm | 20km | Single LC | C | Non-MSA |
| FGB-V12CxxK10CM | 12G-SDI | SFP+ | Single-Transmitter | 1270-1450nm | 10km | Single LC | C | MSA |
| FGB-V12CxxK10CN | 12G-SDI | SFP+ | Single-Transmitter | 1270-1450nm | 10km | Single LC | C | Non-MSA |
| FFB-V12K20CM | 12G-SDI | SFP+ | Single-Receiver | N/A | 20km | Single LC | C | MSA |
| FFB-V12K20CN | 12G-SDI | SFP+ | Single-Receiver | N/A | 20km | Single LC | C | Non-MSA |
| FBA-V3G31K02CM | 3G-SDI | SFP | Transceiver | 1310nm | 2km | Dual LC | C | MSA |
| FBA-V3G31K20CM | 3G-SDI | SFP | Transceiver | 1310nm | 20km | Dual LC | C | MSA |
| FBA-V3G31K40CM | 3G-SDI | SFP | Transceiver | 1310nm | 40km | Dual LC | C | MSA |
| FBA-V3G55K40CM | 3G-SDI | SFP | Transceiver | 1550nm | 40km | Dual LC | C | MSA |
| FBA-V3G31K80CM | 3G-SDI | SFP | Transceiver | 1310nm | 80km | Dual LC | C | MSA |
| FBA-V3G55K80CM | 3G-SDI | SFP | Transceiver | 1550nm | 80km | Dual LC | C | MSA |
| FBA-V3GCxxK20CM | 3G-SDI | SFP | Transceiver | 1270-1610nm | 20km | Dual LC | C | MSA |
| FBA-V3GCxxK40CM | 3G-SDI | SFP | Transceiver | 1270-1610nm | 40km | Dual LC | C | MSA |
| FBA-V3GCxxK80CM | 3G-SDI | SFP | Transceiver | 1270-1610nm | 80km | Dual LC | C | MSA |
| FJA-V3G3131K02CN | 2x 3G-SDI | SFP | Dual-Transmitter | 1310nm | 2km | Dual LC | C | Non-MSA |
| FJA-V3G3131K20CN | 2x 3G-SDI | SFP | Dual-Transmitter | 1310nm | 20km | Dual LC | C | Non-MSA |
| FJA-V3G3131K40CN | 2x 3G-SDI | SFP | Dual-Transmitter | 1310nm | 40km | Dual LC | C | Non-MSA |
| FJA-V3G5555K40CN | 2x 3G-SDI | SFP | Dual-Transmitter | 1550nm | 80km | Dual LC | C | Non-MSA |
| FJA-V3GxxxxK40CN | 2x 3G-SDI | SFP | Dual-Transmitter | 1270-1610nm | 40km | Dual LC | C | Non-MSA |
| FHA-V3GK02CN | 2x 3G-SDI | SFP | Dual-Receiver | N/A | 2km | Dual LC | C | Non-MSA |
| FHA-V3GK20CN | 2x 3G-SDI | SFP | Dual-Receiver | N/A | 20km | Dual LC | C | Non-MSA |
| FHA-V3GK40CN | 2x 3G-SDI | SFP | Dual-Receiver | N/A | 40km | Dual LC | C | Non-MSA |
| FGA-V3G31K02CN | 3G-SDI | SFP | Single-Transmitter | 1310nm | 2km | Single LC | C | Non-MSA |
| FGA-V3G31K02TN | 3G-SDI | SFP | Single-Transmitter | 1310nm | 2km | Single LC | I | Non-MSA |
| FGA-V3G31K20CM | 3G-SDI | SFP | Single-Transmitter | 1310nm | 20km | Single LC | C | MSA |
| FGA-V3G31K20CN | 3G-SDI | SFP | Single-Transmitter | 1310nm | 20km | Single LC | C | Non-MSA |
| FGA-V3G31K40CN | 3G-SDI | SFP | Single-Transmitter | 1310nm | 40km | Single LC | C | Non-MSA |
| FGA-V3G55K40CN | 3G-SDI | SFP | Single-Transmitter | 1550nm | 40km | Single LC | C | Non-MSA |
| FGA-V3GCxxK40CN | 3G-SDI | SFP | Single-Transmitter | 1270-1610nm | 40km | Single LC | C | Non-MSA |
| FFA-V3GK02CN | 3G-SDI | SFP | Single-Receiver | N/A | 2km | Single LC | C | Non-MSA |
| FFA-V3GK20CN | 3G-SDI | SFP | Single-Receiver | N/A | 20km | Single LC | C | Non-MSA |
| FFA-V3GK40CN | 3G-SDI | SFP | Single-Receiver | N/A | 40km | Single LC | C | Non-MSA |
Boost up higher bandwidth for
your data center