Diverse Technology Path & Product Line
As an important part of fiber optic communication, optical modules are optoelectronic devices that realize photoelectric conversion and electro-optical conversion functions in the process of optical signal transmission.
FIBERSTAMP possesses the strength of making silicon optical modules by mastering both traditional III-V laser-based optical modules and new silicon optical technology.  We self-developed a comprehensive range of transceivers that meets up to 800G and different distances needs. With our products, you can find the right products for your specific application. 
Server room tri-proof optical module
FIBERSTAMP market-leading "condensation, moisture and corrosion resistant" transceivers for special scenarios, such as pulp and paper, water/wastewater treatment, mining, tire and rubber manufacturing, etc. Reliability of communication products is strictly required due to the harsh industrial environment.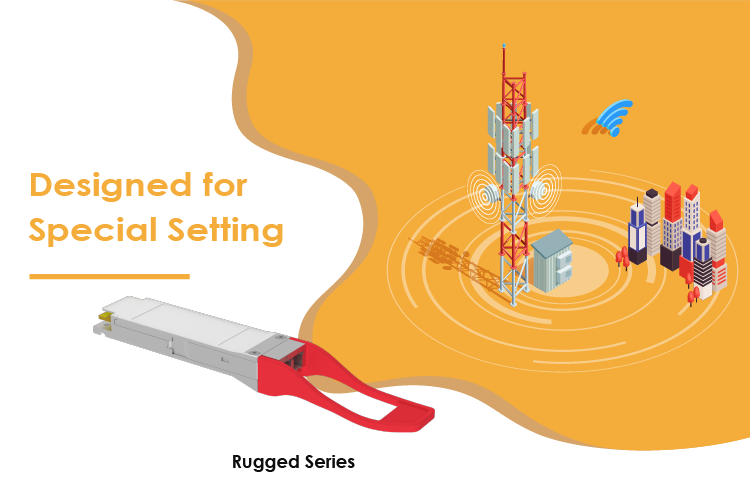 P/N
Data Rates
Form Factor
Applications
Wavelength
Reach
Interface
Temp.
FEG-100S4M07TR
FEG-100S4M10TR
100GE/EDR
QSFP28
SR4
850nm
70m(OM3)
100m (OM4)
MPO12
C
FEG-112S4M10TR
100GE/OTU4/128GFC
QSFP28
SR4
850nm
100m (OM4)
MPO12
C
FEG-112S4M30TR
100GE/OTU4/128GFC
QSFP28
SR4
850nm
300m (OM4)
MPO12
C
FEG-100P4K02TR
100GE/EDR
QSFP28
PSM4
1310nm
2km
MPO12
C
FBG-100C4K02TR
100GE/EDR
QSFP28
CWDM4
CWDM4
2km
Dual LC
C
Boost up higher bandwidth for
your data center