Mature Technology & High Productivity
To keep up with the demands of High-Performance Computing (HPC) and High-Frequency Trading (HFT) applications in Data Centers and 5G settings, FIBERSTAMP utilizes proven COB technology to develop a series of differentiated cable assemblies with low BER, low power consumption, and high bandwidth, while offering high productivity and just-in-time delivery.
Moreover, FIBERSTAMP's active optical cables (AOC) consist of range connector types with QSFP+, QSFPDD, SFP+, and flexible breakout designs for various scenarios' needs.
High-performance Hardened Active Optical Cable (HAOC)  for short-range multi-lane data communication and interconnect applications, and made of structure with stainless steel metal tube, Kevlar strengthen, and LSZH Jacket, that satisfies the industrial-grade standard for 5G Open RAN fronthaul applications.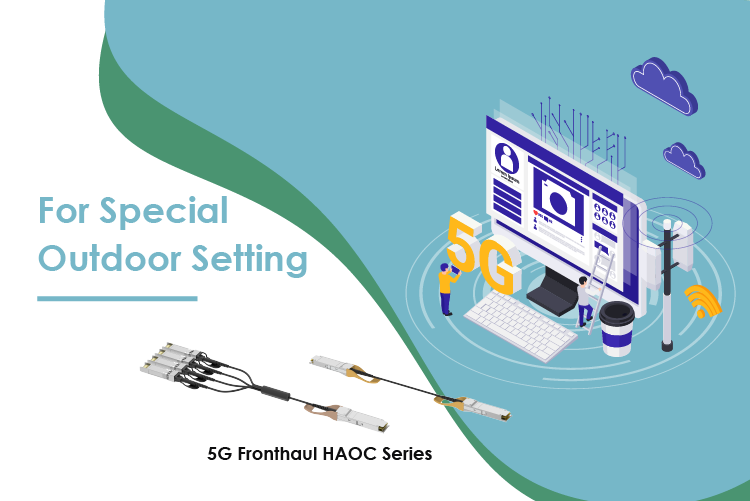 Product
Product Name
Data Rates
Modulation
Max. Length
Temp.
P/N
100G QSFP28 AOC
100GE/CPRI
4x 25G NRZ
100m (OM4)
I
FYG-100MxxxTH
100G QSFP28 to 4x SFP28 AOC
100GE/CPRI
4x 25G NRZ
100m (OM4)
I
FYG4C-100MxxxTH
25G SFP28 AOC
25GE/CPRI
25G NRZ
100m
300m
I
FYC-D25MxxxTH
10G SFP+ AOC
10GE/CPRI
10G NRZ
300m (OM3)
I
FYB-E10MxxxTH
Boost up higher bandwidth for
your data center