Singapore, Nov 9th, 2022 – FIBERSTAMP has launched 400G QSFP-DD ZR DCO Coherent Optical Modules to meet Data Center Interconnection (DCI) and IP over DWDM applications.
Nowadays, when high-speed optical communication is prevalent, in order to provide more options for the high bandwidth and cost-efficiency coherent DWDM market, FIBERSTAMP has continuously studied coherent technology and launched 400G QSFP-DD ZR DCO coherent optical module to meet the needs of DCI and IP over DWDM requirements.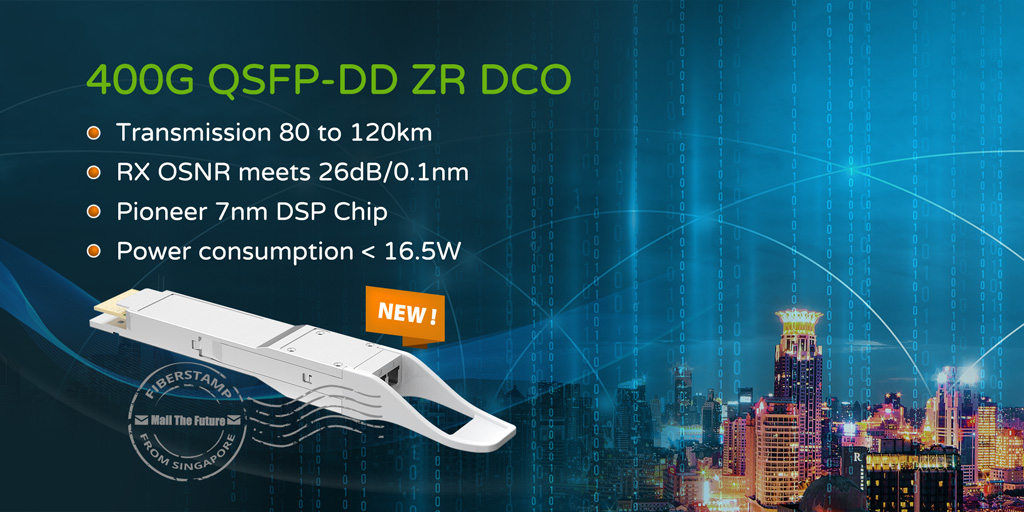 Product highlights
Compliant with OIF-400GZR-01.0
QSFP-DD MSA compliant
Pioneer 7nm DSP Chip
Transmission distance 80~120km (with optical amplifier scenarios)
400G 16QAM modulation
75GHz/100GHz DWDM adjustable
Dispersion tolerance meets 2400 ps/nm
RX OSNR tolerance meets 26dB/0.1nm
Maximum power consumption 16.5W
More Parameter
Parameter
Specification
Output Optical Power
> -10dBm
Rx Sensitivity
DWDM (amplified)
> -12dBm
Grey Link (unamplified)
> -20dBm
OSNR (DWDM Link)
26dB/0.1nm SEN -8 to -10dBm
Applications
400G QSFP-DD ZR DCO coherent optical module can be deployed in data center interconnection, supports end-to-end 80km~120km transmission scenario with DWDM amplifier and end-to-end 40km transmission without the amplifier.
In DCI and IP over DWDM applications, 400G QSFP-DD ZR DCO can be plugged directly into the 400GE switchers or routers.
Scene Diagram

Currently, FIBERSTAMP has already delivered a batch of 400G QSFP-DD ZR DCO coherent modules, and will rapidly increase the production capacity of 400G series coherent modules to cope with the growing demand of the 400G ZR market. FIBERSTAMP has been dedicated to the field of coherent technology for many years and has a mature and complete series of coherent products and solutions. Meanwhile, we will continue to efficiently launch the new generation of coherent optical modules that meet the higher needs of users and expand business for them.