Singapore, Feb 7th, 2023 – While the world keeps changing, FIBERSTAMP has always maintained the inner passion for innovative technologies in optical communication industry. 2023 will be the year of solid development for FIBERSTAMP as an optical network mail carrier, and the year for us to demonstrate our core competency and ideology. 'Mission Accomplished' is the slogan of FIBERSTAMP, as an ideological mail carrier, we must continuously release more differentiated technology propositions and middleware products to enrich the form of the entire optical network society and provide customers with more choices.
1. data center high-speed optical modules and active optical cable product roadmap
Digital economy transformation brings tremendous market demand, which puts forward new requirements on the architecture, capacity, rate, performance and availability of the underlay network. FIBERSTAMP will release varied data rates of optical modules and AOC cables to meet the needs of various users in data centers.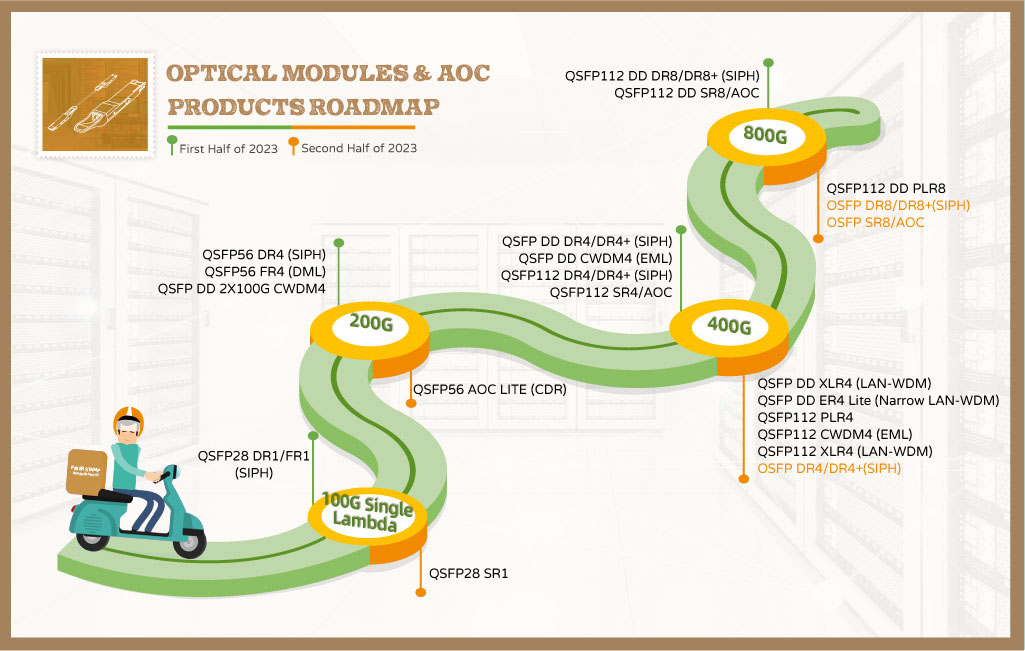 2. Data Center and Server Direct Attach Copper Cables Product Roadmap
For optimizing and building the underlay network architecture of various types of data centers, FIBERSTAMP will enhance the development of OSFP and launch new modules with advanced heat dissipation performance to save more deployment cost for data center users on short-haul high-speed 400G/800G active and passive copper interconnect applications.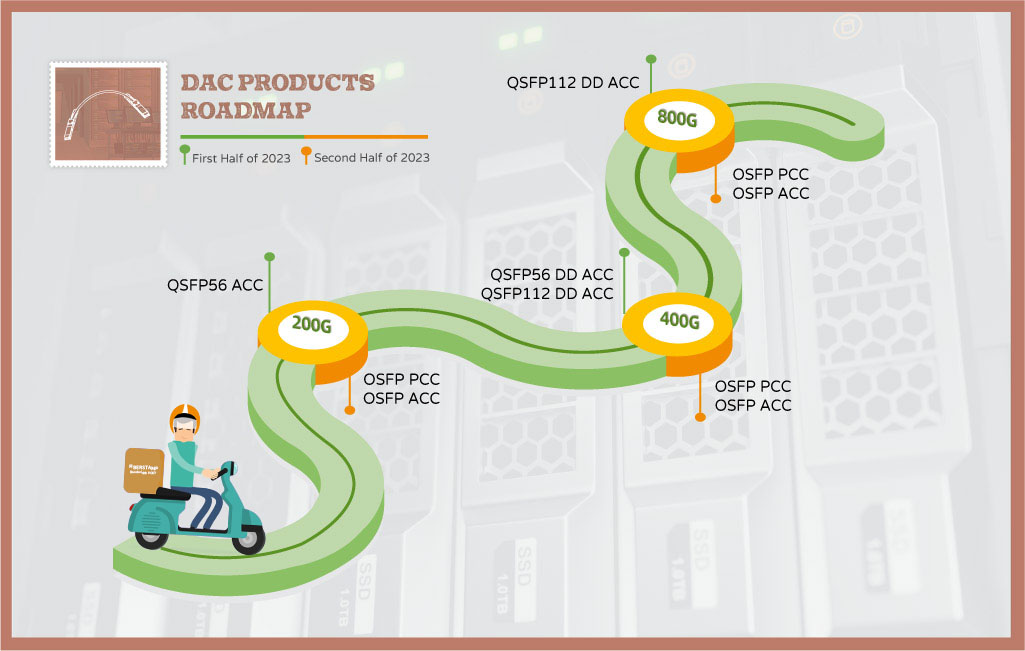 3. Data Center Immersion Cooling Optics and Extenders Product Roadmap
Compared with air cooling, immersion cooling technology is an important energy-saving path for new generation green data centers. FBIERSTAMP will launch new immersion cooling extenders and keep improving high-speed immersion cooling optics in 2023 for building a comprehensive green high-performance data center, decrease entire data center energy consumption and contribute to carbon neutrality.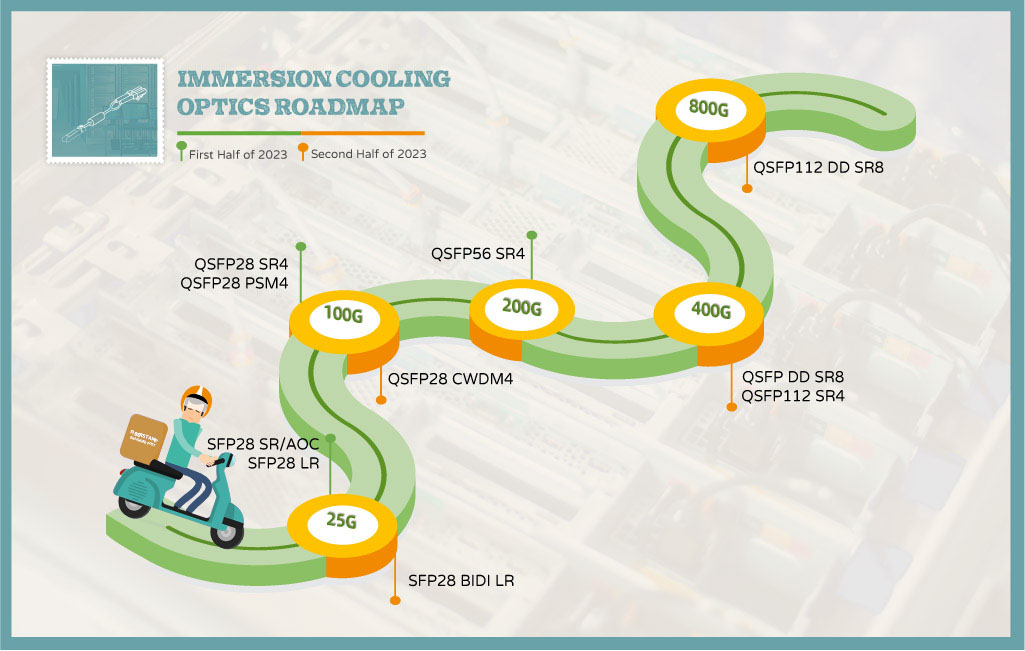 4. Next-gen Metro Telecom and 5G Fronthaul & Backhaul Product Roadmap
In the 5G era, Open RAN looks to form an emerging open 5G carrier network. Based on the mature 50G PAM4 modulation technology, FIBERSTAMP will launch more fronthaul and backhaul optical modules with diverse different specifications and distances, creating more diverse 5G data center organizational structures for operators.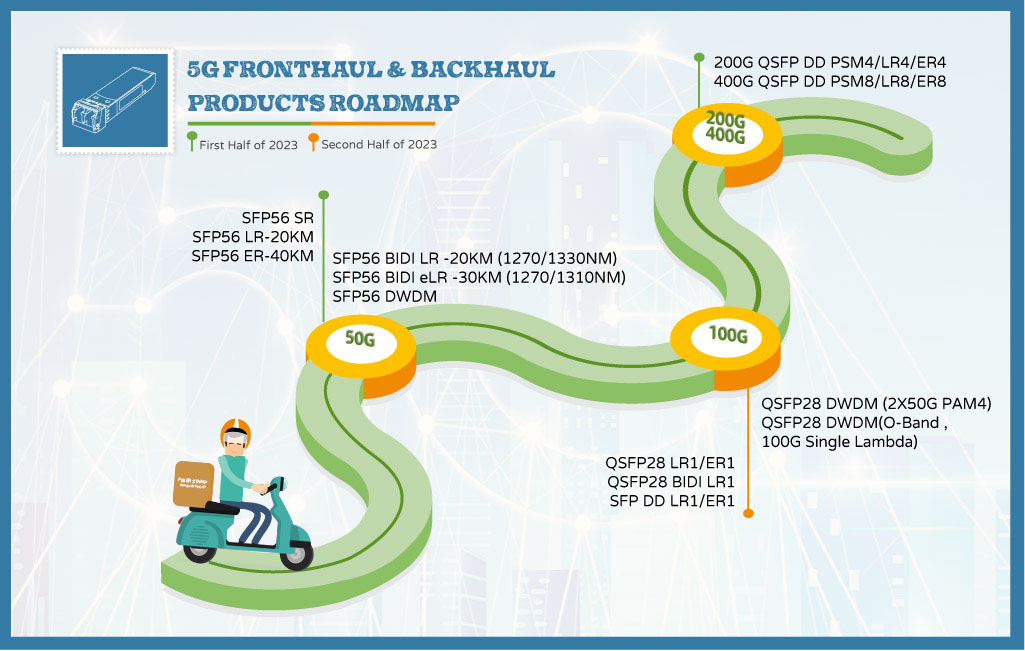 5. Pluggable DWDM Transmission Solution & DCI 1U/2U DWDM Transmission Devices Solution Roadmap
The global business development process is accelerating, leading to a significant increase the demand for DCI(Data Center Interconnection) and ultra-haul connections. FIBERSTAMP has mastered the cutting-edge technology to provide the DWDM transmission market with 100G/200G/400G coherent transmission and 100G PAM4 DWDM transmission solutions. Especially in 400G DWDM coherent communication to provide cost-effective IP over DWDM 400G QSFP-DD ZR/ZR+ pluggable coherent communication transmission solutions.
In 2023, FIBERSTAMP will launch a 1U/2U coherent transmission Muxponder devices with stable long-distance transmission. Including 400G Muxplonder card, 1×9 twins WSS Card, etc. to provide users with a more economical overall solution for Global Internet business DWDM optical links.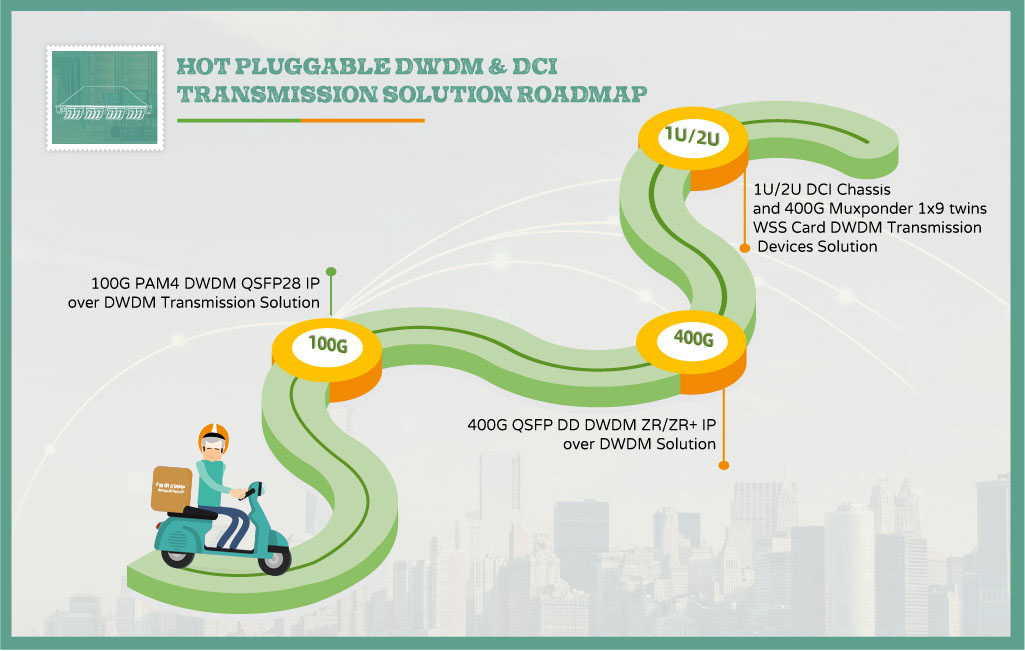 6. UHD Video Transmission Product Roadmap
With the booming 8K UHD broadcast market and increasingly diversified video applications, the market has raised higher demand for interconnect and communication between industrial-grade consumer optics. FIBERSTAMP will keep to launch more broadcast-grade video optical kits to cover applications in diverse scenarios.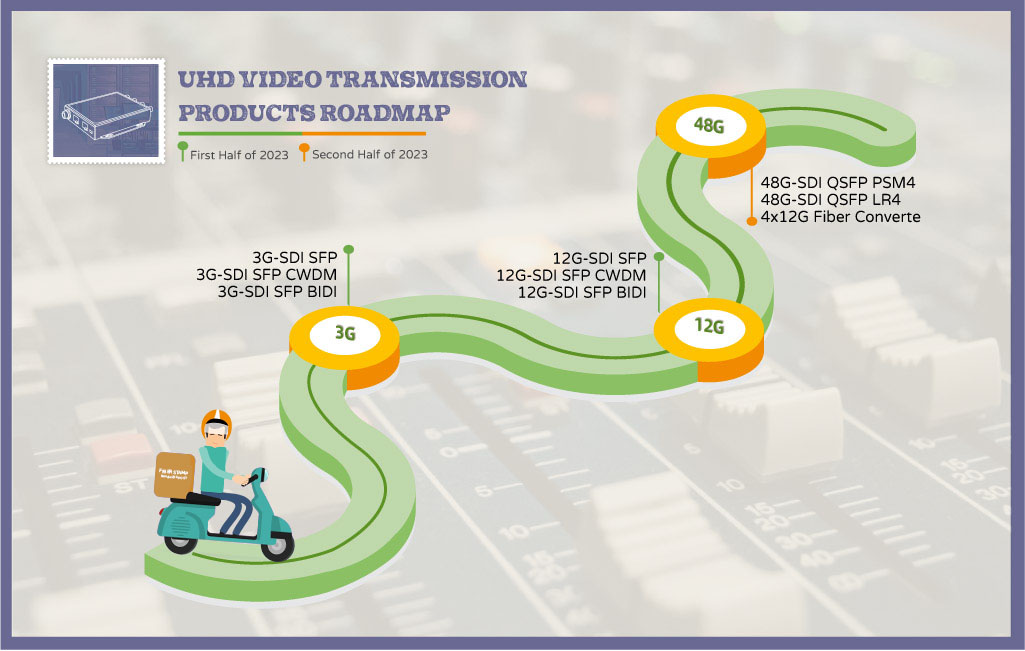 FIBERSTAMP will strive to accomplish our mission of adding new economic value to optical networks through implementing our new technologies and designs.