July 25, 2022 — The Silicon Photonics technology is widely used in 400G data centers and has been a cornerstone of technology innovation in recent years since it is a vital technology for meeting higher bandwidth demands at a substantially lower cost. Recently, FIBERSTAMP has launched 400G QSFP-DD DR4/DR4+ transceivers based on the Silicon Photonics technology, to help hyperscale data centers address the high bandwidth demands coming with emerging artificial intelligence and machine learning applications.
The deployment of 400G QSFP-DD silicon photonics optical transceivers in hyperscale data centers has yielded some practical benefits. Silicon Photonics modules generate signals with less dispersion, less inter-symbol interference (ISI), optimal link signal-to-noise ratio (SNR), and so on, which ensure high quality for 100G PAM4 transmission over fiber. For massive demand scenarios, Silicon Photonics can significantly reduce the cost per bit/sec. Furthermore, the latency and power consumption caused by DSP can also be well reduced with silicon photonics technology.
The launch of 400G silicon photonics optical transceivers has smoothed the path for high-rate 400G data centers, which aligns with FIBERSTAMP's efforts to provide innovative, high-quality, high-reliability optical transceivers in a fast-growing global market.
The key features of FIBERSTAMP's Silicon Photonics 400G QSFP-DD DR4/DR4+ optical transceivers are shown below.
Industry-leading 7nm DSP chip
The Silicon Photonics chip is integrated with MZM modulator, Silicon waveguide, detector, etc.
4-channel optical fiber array coupling components and ultra-low loss CW light source coupling technology
The chip size is greatly reduced, and the design and manufacturing process are greatly simplified with mature COB package
TDECQ ≤ 2.0dB, BER reaches 1E-11 without FEC
Reach up to 500m or 2km and power consumption is lower than 9W
The 400G DR4/DR4+ modules can be used for the interconnection between TOR switches and Leaf switches, as a most reliable choice for data center architecture based on 112G PAM4 per channel. The following figure shows the low-cost architecture based on 4-channel optics, silicon photonics and 100G PAM4.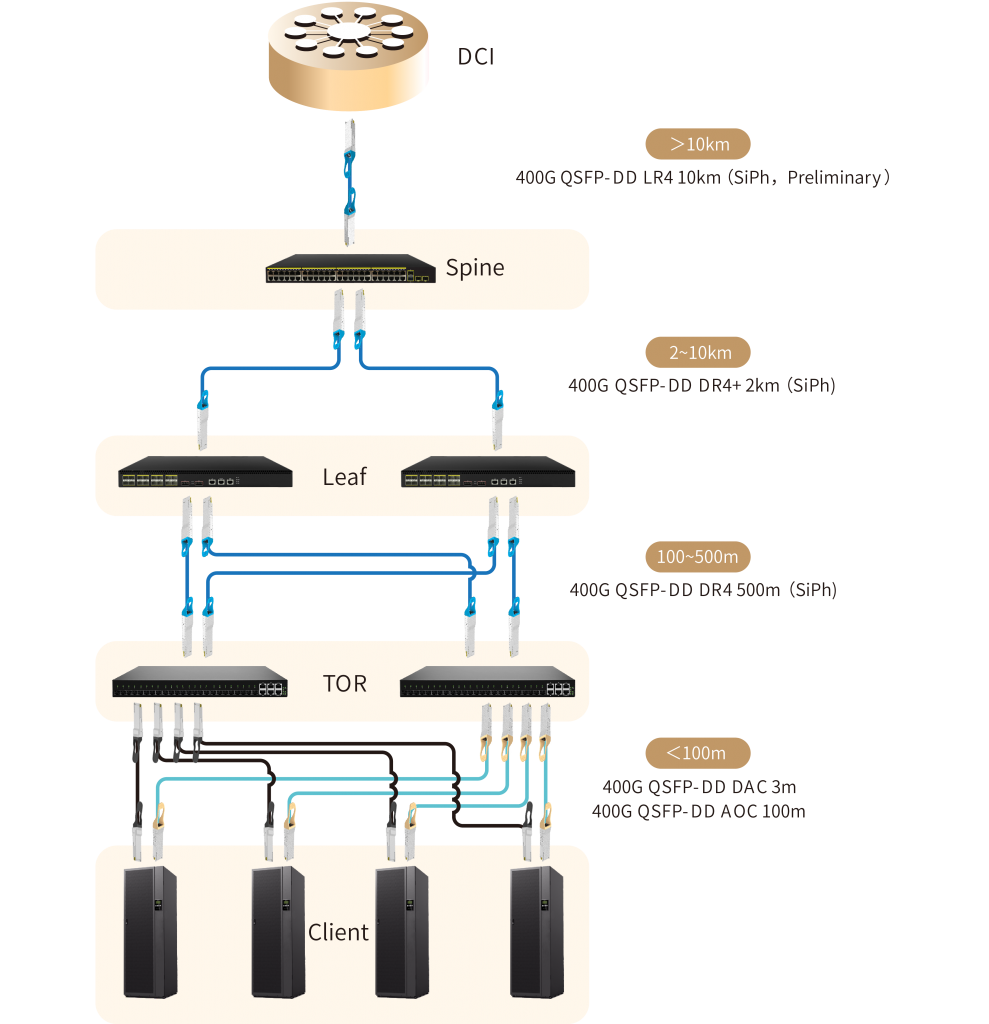 Thanks to the trust and recognition of customers, FIBERSTAMP's Silicon Photonics products are successfully applied to clients all over the world and have been well appraised.