For any type of scale of data centers
Diverse Technology Path & Product Line
As an important part of fiber optic communication, optical modules are optoelectronic devices that realize photoelectric conversion and electro-optical conversion functions in the process of optical signal transmission.
FIBERSTAMP possesses the strength of making silicon optical modules by mastering both traditional III-V laser-based optical modules and new silicon optical technology.  We self-developed a comprehensive range of transceivers that meets up to 800G and different distances needs. With our products, you can find the right products for your specific application. 
Single-mode / silicon photonics
optical module
Featuring advanced technology, FIBERSTAMP single-mode optical module can reach up to 80km that is designed for medium and long-distance transmission in data centers and 5G fronthaul applications.
Single Lambda PAM4 technology enables double data rate and makes twice as bandwidth efficient as the traditional model. 
FIBERSTAMP with trendy Silicon Photonics technology provides cost-effective high-speed optical modules for the next-generation era.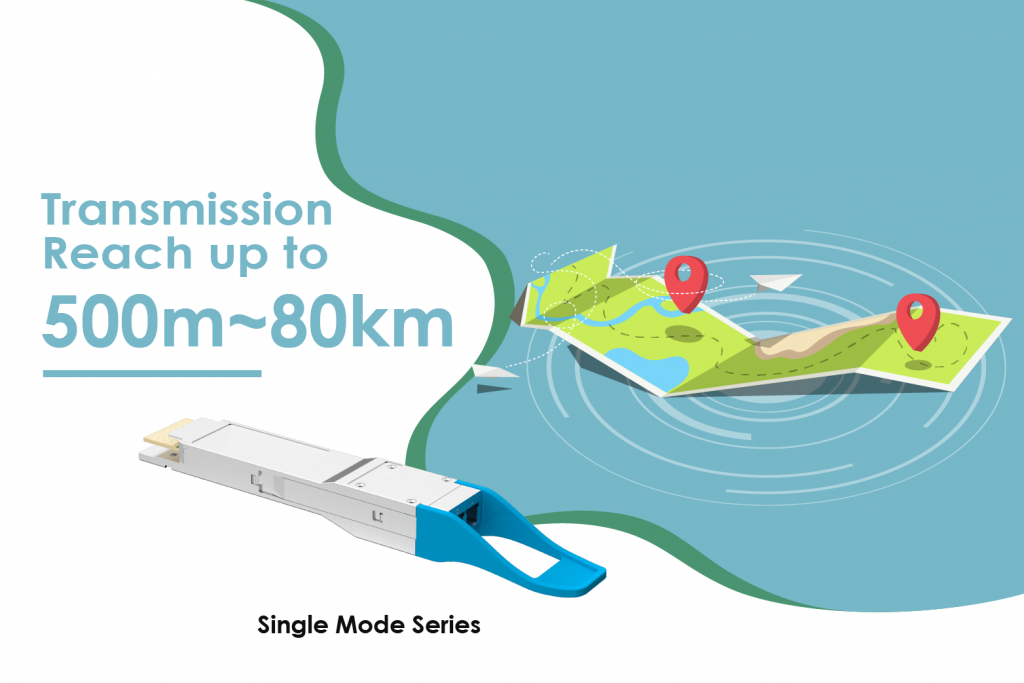 | P/N | Data Rates | Form Factor | Applications | Wavelength | Reach | Interface | Temp. |
| --- | --- | --- | --- | --- | --- | --- | --- |
| FUL-400P4M50C | 400GE/NDR | QSFP-DD | DR4 (SiPh) | 1310nm | 500m | MPO12 | C |
| FUL-400P4K02C | 400GE/NDR | QSFP-DD | DR4+ (SiPh) | 1310nm | 2km | MPO12 | C |
| FEL-400P4K02C | 400GE/NDR | QSFP-DD | XDR4 | 1310nm | 2km | MPO12 | C |
| FEL-400P4K10C | 400GE/NDR | QSFP-DD | PLR4 | 1310nm | 10km | MPO12 | C |
| FBL-400C4K02C | 400GE/NDR | QSFP-DD | FR4 | CWDM4 | 2km | Dual LC | C |
| FBL-400C4K06C | 400GE/NDR | QSFP-DD | CWDM4 | CWDM4 | 6km | Dual LC | C |
| FBL-400C4K10C | 400GE/NDR | QSFP-DD | LR4 | CWDM4 | 10km | Dual LC | C |
| FEL-400P8K02C | 400GE/HDR | QSFP-DD | PSM8 | 1310nm | 2km | MPO16 | C |
| FEL-400P8K10C | 400GE/HDR | QSFP-DD | PSM8 | 1310nm | 10km | MPO16 | C |
| FBL-400L8K10C | 400GE/HDR | QSFP-DD | LR8 | LWDM8 | 10km | Dual LC | C |
| FBL-400L8K40C | 400GE | QSFP-DD | ER8 | LWDM8 | 40km | Dual LC | C |
| FBL-200L8K10C | 200GE | QSFP-DD | LR8 | LWDM8 | 10km | Dual LC | C |
| FEH-200P4M50C | 200GE/HDR | QSFP56 | DR4 | 1310nm | 500m | MPO12 | C |
| FBH-200C4K02C | 200GE/HDR | QSFP56 | FR4 (EML) | CWDM4 | 2km | Dual LC | C |
| FBH-200C4K02CD | 200GE/HDR | QSFP56 | FR4 (DML) | CWDM4 | 2km | Dual LC | C |
| FBH-200L4K10C | 200GE/HDR | QSFP56 | LR4 | LWDM4 | 10km | Dual LC | C |
| FBH-200L4K40C | 200GE | QSFP56 | ER4 | LWDM4 | 40km | Dual LC | C |
| FTG-10031M50C | 100GE | QSFP28 | DR1 (SiPh) | 1310nm | 500m | Dual LC | C |
| FTG-10031K02C | 100GE | QSFP28 | FR1 (SiPh) | 1310nm | 2km | Dual LC | C |
| FTG-10031K10C | 100GE | QSFP28 | LR1 (SiPh) | 1310nm | 10km | Dual LC | C |
| FBG-10031K20C | 100GE | QSFP28 | LR1 (EML) | 1310nm | 20km | Dual LC | C |
| FBG-10031K40C | 100GE | QSFP28 | ER1 | 1310nm | 40km | Dual LC | C |
| FEG-100P4K02C | 100GE/EDR | QSFP28 | PSM4 | 1310nm | 2km | MPO12 | C |
| FEG-100P4K02T | 100GE/EDR | QSFP28 | PSM4 | 1310nm | 2km | MPO12 | I |
| FEG-100P4K10C | 100GE/EDR | QSFP28 | PSM4 | 1310nm | 10km | MPO12 | C |
| FEG-100P4K10T | 100GE/EDR | QSFP28 | PSM4 | 1310nm | 10km | MPO12 | I |
| FBG-100C4K02C | 100GE/EDR | QSFP28 | CWDM4 | CWDM4 | 2km | Dual LC | C |
| FBG-100C4K02T | 100GE/EDR | QSFP28 | CWDM4 | CWDM4 | 2km | Dual LC | I |
| FBG-100C4K10C | 100GE/EDR | QSFP28 | CWDM4 | CWDM4 | 10km | Dual LC | C |
| FBG-100C4K10T | 100GE/EDR | QSFP28 | CWDM4 | CWDM4 | 10km | Dual LC | I |
| FBG-100CLK02C | 100GE/EDR | QSFP28 | CLR4 | CWDM4 | 2km | Dual LC | C |
| FBG-100CLK02T | 100GE/EDR | QSFP28 | CLR4 | CWDM4 | 2km | Dual LC | I |
| FBG-100CLK10C | 100GE/EDR | QSFP28 | CLR4 | CWDM4 | 10km | Dual LC | C |
| FBG-100CLK10T | 100GE/EDR | QSFP28 | CLR4 | CWDM4 | 10km | Dual LC | I |
| FBG-100C4K10CL | 100GE/EDR | QSFP28 | 4WDM-10 | CWDM4 | 10km | Dual LC | C |
| FBG-100C4K10TL | 100GE/EDR | QSFP28 | 4WDM-10 | CWDM4 | 10km | Dual LC | I |
| FBG-100L4K10C | 100GE/EDR | QSFP28 | LR4 | LWDM4 | 10km | Dual LC | C |
| FBG-100L4K10T | 100GE/EDR | QSFP28 | LR4 | LWDM4 | 10km | Dual LC | I |
| FBG-112L4K10C | 100GE/OTU4 | QSFP28 | LR4 | LWDM4 | 10km | Dual LC | C |
| FBG-100L4K20C | 100GE | QSFP28 | XLR4 | LWDM4 | 20km | Dual LC | C |
| FBG-112L4K20C | 100GE/OTU4 | QSFP28 | XLR4 | LWDM4 | 20km | Dual LC | C |
| FBG-100L4K40C | 100GE | QSFP28 | 4WDM-40 | LWDM4 | 30km/40km | Dual LC | C |
| FBG-100L4K40T | 100GE | QSFP28 | 4WDM-40 | LWDM4 | 30km/40km | Dual LC | I |
| FBG-100L4K40CL | 100GE | QSFP28 | ER4 Lite | LWDM4 | 30km/40km | Dual LC | C |
| FBG-112L4K40CL | 100GE/OTU4 | QSFP28 | ER4 Lite | LWDM4 | 30km/40km | Dual LC | C |
| FBG-112L4K40C | 100GE/OTU4 | QSFP28 | ER4 | LWDM4 | 40km | Dual LC | C |
| FBG-112L4K60C | 100GE/OTU4 | QSFP28 | eER4 | LWDM4 | 60km | Dual LC | C |
| FBG-112L4K80C | 100GE/OTU4 | QSFP28 | ZR4 | LWDM4 | 80km | Dual LC | C |
| FEF-E40P4K02C | 40GE/QDR | QSFP+ | PSM4 | 1310nm | 2km | MPO12 | C |
| FEF-N40P4K02C | 40GE/OTU3 | QSFP+ | PSM4 | 1310nm | 2km | MPO12 | C |
| FEF-E40P4K10C | 40GE/QDR | QSFP+ | PSM4 | 1310nm | 10km | MPO12 | C |
| FEF-N40P4K10C | 40GE/OTU3 | QSFP+ | PSM4 | 1310nm | 10km | MPO12 | C |
| FBF-E40C4K02C | 40GE/QDR | QSFP+ | LR4 Lite | CWDM4 | 2km | Dual LC | C |
| FBF-E40C4K10C | 40GE/QDR | QSFP+ | LR4 | CWDM4 | 10km | Dual LC | C |
| FBF-N40C4K10C | 40GE/OTU3 | QSFP+ | LR4 | CWDM4 | 10km | Dual LC | C |
| FBF-N40C4K40C | 40GE/OTU3 | QSFP+ | ER4 | CWDM4 | 40km | Dual LC | C |
| FBF-N40L4K80C | 40GE/OTU3 | QSFP+ | ZR4 | LWDM4 | 80km | Dual LC | C |
| FBD-E5031M50T | 50GE | SFP56 | DR | 1310nm | 500m | Dual LC | I |
| FBD-E5031K02T | 50GE | SFP56 | FR | 1310nm | 2km | Dual LC | I |
| FBD-E5031K10T | 50GE | SFP56 | LR | 1310nm | 10km | Dual LC | I |
| FBD-E5031K40T | 50GE | SFP56 | ER | 1310nm | 40km | Dual LC | I |
| FCD-E502733K10T | 50GE | SFP56 | BiDi | 1270nm/1330nm | 10km | Single LC | I |
| FCD-E503327K10T | 50GE | SFP56 | BiDi | 1330nm/1270nm | 10km | Single LC | I |
| FCD-E502733K20T | 50GE | SFP56 | BiDi | 1270nm/1330nm | 20km | Single LC | I |
| FCD-E503327K20T | 50GE | SFP56 | BiDi | 1330nm/1270nm | 20km | Single LC | I |
| FBD-E50DxxK05T | 50GE | SFP56 | DWDM | C18-C61 | 5km | Single LC | I |
| FBC-D2531K10C | 25GE/CPRI | SFP28 | LR | 1310nm | 10km | Dual LC | C |
| FBC-D2531K10T | 25GE/CPRI | SFP28 | LR | 1310nm | 10km | Dual LC | I |
| FBC-D2531K40T | 25GE/CPRI | SFP28 | ER | 1310nm | 30km/40km | Dual LC | I |
| FCC-D252733K10T | 25GE/CPRI | SFP28 | BiDi | 1270nm/1330nm | 10km | Single LC | I |
| FCC-D253327K10T | 25GE/CPRI | SFP28 | BiDi | 1330nm/1270nm | 10km | Single LC | I |
| FCC-D252733K20T | 25GE/CPRI | SFP28 | BiDi | 1270nm/1330nm | 20km | Single LC | I |
| FCC-D253327K20T | 25GE/CPRI | SFP28 | BiDi | 1330nm/1270nm | 20km | Single LC | I |
| FCC-D252733K40T | 25GE/CPRI | SFP28 | BiDi | 1270nm/1330nm | 40km | Single LC | I |
| FCC-D253327K40T | 25GE/CPRI | SFP28 | BiDi | 1330nm/1270nm | 40km | Single LC | I |
| FCC-D252731K40T | 25GE/CPRI | SFP28 | BiDi | 1270nm/1310nm | 40km | Single LC | I |
| FCC-D253127K40T | 25GE/CPRI | SFP28 | BiDi | 1310nm/1270nm | 40km | Single LC | I |
| FBC-D25CxxK10T | 25GE/CPRI | SFP28 | CWDM | 1271-1371nm | 10km | Dual LC | I |
| FBC-D25CxxK10T | 25GE/CPRI | SFP28 | CWDM | 1471-1571nm | 10km | Dual LC | I |
| FBC-D25CxxK15T | 25GE/CPRI | SFP28 | CWDM | 1271-1371nm | 15km | Dual LC | I |
| FBC-D25LxxK10T | 25GE/CPRI | SFP28 | LWDM | 1269.23-1318.35nm | 10km | Dual LC | I |
| FBC-D25LxxK20T | 25GE/CPRI | SFP28 | LWDM | 1269.23-1318.35nm | 20km | Dual LC | I |
| FBC-D25LxxK40T | 25GE/CPRI | SFP28 | LWDM | 1273.55-1309.14nm | 40km | Dual LC | I |
| FBC-D25DxxK02C | 25GE/CPRI | SFP28 | DWDM | C17-C61 | 2km | Dual LC | C |
| FBC-D25DxxK10T | 25GE/CPRI | SFP28 | DWDM | C18-C61 | 10km | Dual LC | I |
| FBC-D25MxxK10T | 25GE/CPRI | SFP28 | MWDM | 1267.5-1374.5nm | 10km | Dual LC | I |
| FBC-D25MxxK20T | 25GE/CPRI | SFP28 | MWDM | 1267.5-1374.5nm | 20km | Dual LC | I |
| FBM-112L4K10C | 100GE/OTU4 | CFP | LR4 | LWDM4 | 10km | Dual LC | C |
| FBN-112L4K10C | 100GE/OTU4 | CFP2 | LR4 | LWDM4 | 10km | Dual LC | C |
| FBN-112L4K40C | 100GE/OTU4 | CFP2 | ER4 | LWDM4 | 40km | Dual LC | C |
| FBQ-112L4K10C | 100GE/OTU4 | CFP4 | LR4 | LWDM4 | 10km | Dual LC | C |
Boost up higher bandwidth for your data center